This story was written by a real good friend back at Ft. Bragg. Just a great story:
I hope this story touches you all in some way. This is a story about a Soldier who gave his life while saving several others. He laid down his own life to save to save the lives of his wounded Soldiers.
SFC Benjamin L. Sebban lived the Seven Army Values. Those values being Leadership, Duty, Respect, Selfless Service, Honor, Respect and Personal Courage. If this isn't someone who is deserving of high honors, if not the Medal of Honor, then I don't know who is.
By Army Spc. Aaron L. Rosencrans
27th Public Affairs Detachment
SOUTH AMBOY, N.J. -- Complete with a 21-gun salute and bagpipers leading the march of the procession with the Army Song, the mobile memorial service for a Fort Bragg Soldier left few dry eyes.
Sgt. 1st Class Benjamin L. Sebban, senior combat medic with 5th Squadron, 73rd Cavalry Regiment, 3rd Brigade Combat Team, 82nd Airborne Division, died from wounds suffered after an improvised explosive device detonated near his unit in Baqubah, Iraq.
People lined both sides of the road to watch the procession for Sebban March 28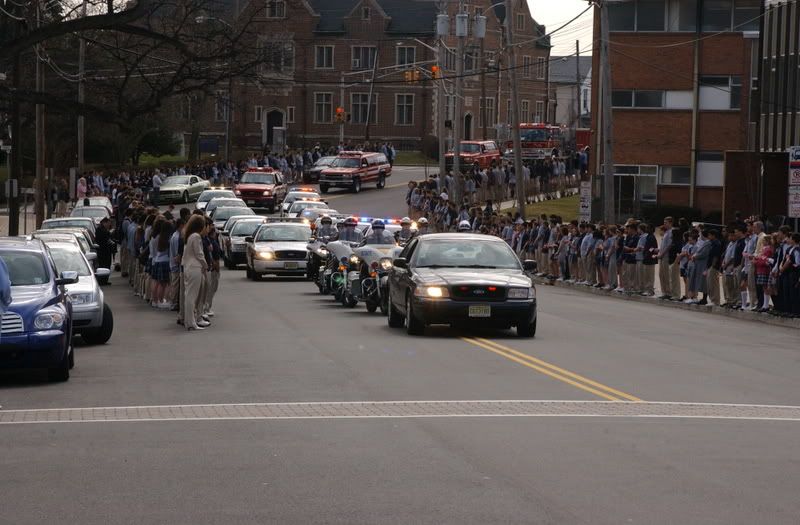 in South Amboy, N.J. as it made its way to Christ Church. It was lead by emergency-services workers, military service members, bagpipers and mourners.
Inside the church, Rev. Lloyd Pulley, pastor, started the memorial service. He said the service was different because of Sebban's faith in God.
"This is uplifting in that (Sebban) had trusted in the lord Jesus Christ," Pulley said. "I believe the legacy that he left will influence many others, and that through his life, others, perhaps, will come to know the God that he came to know."
Pulley offered comfort to those close to Sebban by reminding them that Sebban believed he had more to come after his life was over.
Later, Sebban's youngest brother, David Sebban admitted he didn't prepare to speak because he didn't feel he could stay strong enough to say anything. However, he did work up the strength to say a few things between his tears.
"I will never try to understand why he's laying there dead, and I'm standing here alive," he said. "I will never understand it, and I will never try to understand it. But I'm going to move on."
He went on to say his brother's death was unexpected.
"I thought we all were going to grow old together and tell stories," he said. "And now that's not going to happen."
David called his late brother the "best man I ever knew."
Before the procession moved out of the church, bagpipers led in the singing of Amazing Grace and the Army Song as the mobile procession moved on.
According to Daniel Sebban, Sebban's younger brother, he was trying to warn his Soldiers of the impending danger when the device exploded.
"There was a vehicle with insurgents that ran into a ditch where his unit was," said Daniel. "He was getting out of a vehicle to warn the Soldiers outside they were getting ready to detonate the explosive. In doing so, as he was warning them, the explosive went off, and he was hit with shrapnel."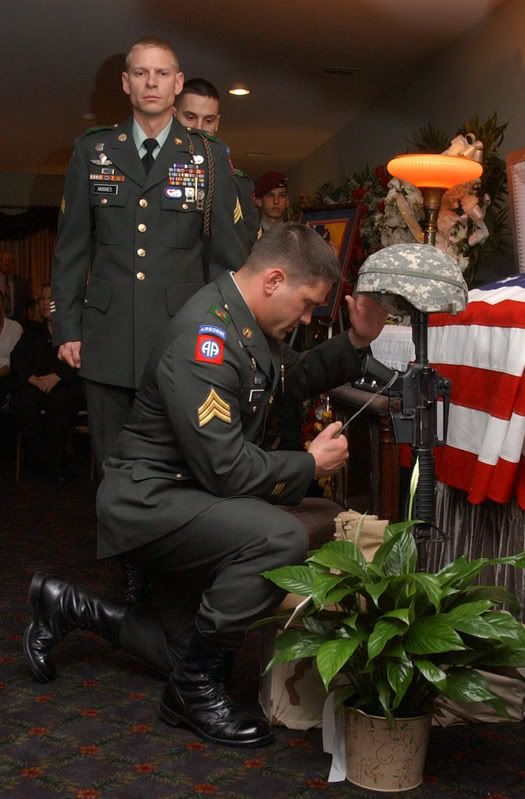 Rather than tend to his own wounds, Sebban provided care to his Soldiers.

"He basically ignored his own wounds and helped the Soldiers that were injured, thinking of them more than himself" said Daniel. "From what I heard, he died as he was taking care of the other wounded Soldiers."

Sebban's family has received over 200 emails from Soldiers he took care of during his time in the Army.

The Sebban family was visited by the mayor of South Amboy and the governor of N.J.

Gov. John S. Corzine, governor of N.J., visited Sebban's family March 27 during the Wake. He ordered that all U.S. flags and N.J. flags be flown at half mast March 28 to recognize and mourn the loss of Sebban. Corzine said Sebban was a true American hero.

"These memorial services were fitting for (Sebban)," said John T. O'Leary, mayor of South Amboy. "His dedication to his country and his Soldiers proved his heroism."

The Sebban family is accepting donations in memory of Sebban for the Sgt. 1st Class Benjamin L. Sebban Warrior Fund. This is a scholarship fund for individuals who plan to attend medical or nursing school. Donations may be mailed to Sgt. 1st Class Benjamin L. Sebban Warrior Fund, P.O. Box 111, South Amboy, N.J., 08879.

David Sebban said he couldn't believe his brother was gone. "My brother was more than just a brother," he said. "He was a hero and a friend."